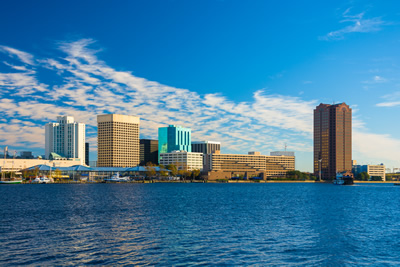 Hampton Roads, Virginia or the Virginia Beach-Norfolk-Newport News Metropolitan Statistical Area (MSA) is situated in the southeastern corner of Virginia. The MSA centers on Hampton Roads, the world's largest natural deepwater harbor. Nine cities and five counties comprise the metropolitan area. A totally integrated transportation network of interstate highways, air, rail, and sea services provide excellent access between the communities of this MSA and the markets of the world. Hampton Roads is 200 miles south of Washington, D.C. and 100 miles south of Richmond, the state capital of
Virginia.
Fourteen individual jurisdictions in Virginia make up Hampton Roads, the 2nd best performing metro economy in the nation during the recession according to The Brookings Institution. With a civilian labor force of more than 800,000 and 20,000 individuals graduating from Hampton Roads' 8 universities and 4 community colleges annually, the area's skilled workforce stands out. Four Fortune 500 companies are headquartered in Hampton Roads because they know that the region's economy is as strong as it is stable due to the low business costs, attractive labor supply and superior economic climate that businesses enjoy. For many businesses, it is critical to be conveniently located near customers, suppliers, distributors, employees and vendors. Over 60 percent of the population of the U.S. is within 750 miles of Hampton Roads
and the region's convenient and accessible transportation infrastructure provides multiple options for moving goods between national and international markets.
Inventory