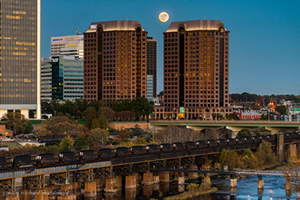 The City of Richmond is the capital of the Commonwealth of Virginia and is strategically located in the center of the Metropolitan Statistical Area (MSA), the greater Richmond region, and the state of Virginia.  Located in the Piedmont region of Virginia, the city has a total rea of 62.5 square miles, with the James River flowing through the center.  The U.S Census Bureau estimates the city's population grew to 217,853 in 2014, an increase of about 6.7% people since the 2010 census.
Between 2000 to 2010, the Richmond MSA population grew by 12.4% and is estimated to expand an additional 15% between 2010 and 2020.  With an MSA population of approximately 1.26 million, Richmond is the third largest MSA in the state and 44th largest in the United States.
Richmond is home to several prominent colleges and universities as well as Fortune 500 and 1000 corporations.  In addition to being the capital of Virginia state government, the city houses the headquarters of the Fifth District of the Federal Reserve Bank and the United States Court of Appeals for the Fourth Circuit.
Richmond is steeped in national history, cultural heritage with an amazing quality of life.  It is within easy driving distance to Chesapeake Bay to the East, the mountains to the West and Washington, D.C.  Richmond has two major interstates and a rail line, and port access as a connection to the Port of Hampton Roads, one of the country's largest natural deep draft ports.  It is an economically progressive city, which combines the amenities of East Coast cities while retaining the charm of a tertiary market.
Distinguished as the 4th Best City in the United States for Commuters (Kiplinger.com), Richmond is well-known as a city that doesn't waste your time.  A superior highway system is the backbone to moving people and product around and through the Richmond area.
Fifty-five percent of the nation's consumers and manufacturers are with 750 miles of Richmond.  Richmond is strategically located at the center of major interstate highways including 64, 95, 85, and 295.  The average commenting time is 25 minutes.  Typical rush hours per day are 4.2, compared to 7.8 in Atlanta, 7 in Washington D.C. and 6.2 in Raleigh.
More than 100 motor freight companies and brokers serve the area, including specialists in heavy hauling, over dimensional loads and liquid or dry bulk.  CSX and Norfolk Southern provide rail freight service to the Richmond MSA.  AMTRAK provides passenger rail service with 11 northbound and 12 southbound trains each weekday.  Richmond is a key stop on the planned Southeast Corridor for future High-Speed Rail in the U.S.
Richmond Office:
7110 Forest Avenue, Suite 103
Richmond, VA 23226
804-346-5000
Inventory