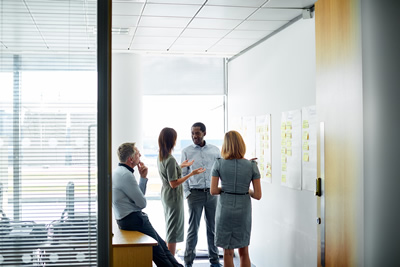 NAI Dominion property management professionals provide a complete range of property services including operations management, financial reporting, construction management, receivership, and REO disposition. From long term strategy development to day-to-day operations, we combine unparalleled local market knowledge with proven methods, a state of the art reporting platform, and a deep commitment to client satisfaction to tailor our services an reports to your needs.
When you select NAI Dominion to assume responsibility of your asset, we are prepared with our transition thought process – looking at tenant retention programs, capital improvement options, energy management, and potential additional revenue streams.
Our property managers make tenant satisfaction the highest priority. Outstanding customer service and total tenant satisfaction, combined with fiduciary responsibility to the owner, guides decision-making in the delivery of each service.
NAI Dominion's Property Management Services
Our property management team specializes in their field and can offer a unique perspective and expertise for each property type: Office, Medical, Industrial, Retail, or specialty mixed-use practices.  Drawing from our world of best practices, our experts provide a full spectrum of capabilities including:
Building Systems & Operations
Lease Compliance & Administration
Tenant Retention
Contract & Vendor Management
Construction Management
Accounting Services
Financial Reporting
Leasing & Property Administration
In addition, we also provide:
24/7 response to emergency situations
Immediate responsiveness to tenants' service requests
Regular comprehensive property inspections
Fair and competitive contract negotiations
Supervision of all contract work and maintenance responsibilities such as janitorial services, security, elevator, plumbing, snow removal, landscaping, HVAC, and more
Compliance with all building codes, municipal and state regulations
Function as Court-Appointed Receiver to control all physical and financial management of the asset.