Central and Southeast Virginia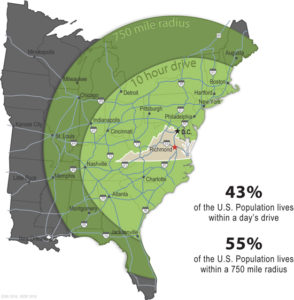 NAI Dominion specialties in the Central and Southeast regions of Virginia. The dynamic and diverse area ranges from centralized Richmond area of Virginia to the Atlantic Ocean and Chesapeake Bay areas of the Hampton Roads Region. It is known for its excellent location central in the East Coast of the United States. Top rank business climate and unmatched quality of life. Companies are drawn to the area by the favorable tax rates, transportation systems, and market accessibility. We are proud to call Virginia home with offices in Richmond, Virginia and Chesapeake, Virginia.
Location and Infrastructure Advantages
Central, Easily-Accessible Location
Virginia's central location on the U.S. East Coast provides an ideal advantage. Businesses benefit from their proximity to major business, financial, and governmental hubs, and availability to global markets.
Virginia is located approximately halfway between Maine and Florida, adjacent to Washington, D.C. and within 300 miles of New York City.
43% of the U.S. population falls within a one-day (10 hour) drive.
World-Class Transportation Infrastructure
The Commonwealth's modern transportation infrastructure ensures optimal access to major east/west and north/south highways, local and international airports, seaports, rail lines, and shipping channels.
Virginia maintains the third largest state-maintained transportation network including the major Interstate routes of I-95, I-81, I-64, I-85, I-77, and I-66.
Fourteen commercial airports serve Virginia, including Washington Dulles International and Ronald Reagan Washington National airports, with non-stop commercial airline service to 145 destinations worldwide, including 43 international destinations.
Ten railroads operate on the state's network of nearly 3,400 miles of railway (excluding trackage rights). Two of the nation's largest railroads, CSX Corporation and Norfolk Southern Corporation (Headquartered in Norfolk, VA), are located here. Commuter rails near the larger cities allow workers to traverse efficiently.
The Virginia Port Authority (VPA) is the Commonwealth's leading agency for international transportation and maritime commerce and manages Virginia's six general cargo terminals: Norfolk International Terminals, Portsmouth Marine Terminals, Virginia International Gateway in Portsmouth, Newport News Marine Terminal, the Virginia Inland Port in Front Royal and the Port of Richmond.
The Port of Virginia is one of the three busiest container ports on the U.S. East Coast and a leading gateway for the entire U.S. market.  The Port boasts the single best infrastructure on the East Coast with a 50-foot ice free channel, no overhead obstructions, on-dock rail service (two Tier 1 railroads), easy access to ocean lanes, and is the only East Coast port with Congressional authorization to dredge to 55 feet.
State-of-the-Art Infrastructure
Virginia offers a robust telecommunications network with more than 122 broadband providers. It is one of the most connected states in the country. More than 94% of Virginians have access to wireline service, with 81% having access to wired broadband of at least 100mbps, and 99% have access to mobile broadband service.
Virginia is one of the most connected states in the nation with access to a robust fiber network that matches or exceeds virtually every domestic market and most major financial centers around the world. The Commonwealth hosts prominent commercial internet exchange points, and 70 percent of the world's internet traffic passes through the Metropolitan Area Exchange East located in Ashburn, Virginia.
The Richmond area has been connected to Ashburn with "dark fiber" opening opportunities along the I-95 corridor. In Southern and Southwest Virginia, the benefits of a 1,500+ mile advanced fiber-optic broadband network connects more than 100 certified GigaParks.
Microsoft and Facebook announced plans in 2016 to build "MAREA"—a new, state of the art subsea cable connecting Bilbao, Spain to Virginia Beach. This will be the highest-capacity subsea cable to cross the Atlantic with an estimated design capacity of 160 terrabits per second. Telefonica also announced plans to connect Rio de Janeiro and Fortaleza, Brazil to Virginia Beach with the BRUSA ultrafast submarine cable. This connection will increase the availability of ultrahigh-speed broadband services between the U.S. and South America. Both projects should be completed by the end of 2018.
Virginia also has the infrastructure to support multinational business, as evidenced by $16.4 billion in Virginia exports in 2016. There are six foreign trade zones designed to encourage business to participate in international trade.