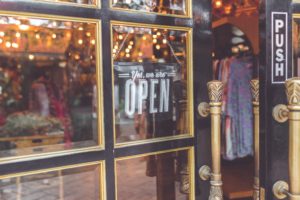 Retail isn't all doom and gloom—there are plenty of retailers that are opening stores instead of closing them. Moreover, many are planning to expand beyond this year. However, there is a fundamental change that is happening causing this weird paradigm where there are brand named box store closings everywhere while simultaneously brand named stores are opening and expanding.
The need for enormous department stores and outlet buildings has passed. These days retail is getting smaller as the industry overall is diversifying. 
News of thousands of closures has led many to believe that retail is dead, but there are many retail store brands that are thriving.
Online Retail Giants Opening Brick-and-Mortar Stores: A big part of this phenomenon is the emergence of online retailers in the physical retail space. Amazon isn't the only online retail giant getting into brick-and-mortar. The now famous Warby Parker is on pace to nearly double its total number of stores to 100.
Bonobos, Untuck, and Everlane are just a few brands that have built their reputations online and are now looking to expand into the retail space, buying up some of the 3K+ stores going up for sale this year. There are an estimated 1,700 new stores slated to open in 2018 but contrary to popular belief, many of those stores are well known brands like Zales, Best Buy, and Autozone.
Traditional Stores are Buying Up Space and Opening New Stores: Toys R Us closed all of their U.S. stores this year. That is after a long trend of named brand store closures including JCPenney, Sears, and Kohl's. This year, we'll see twice as many stores close as open, but there are many traditional retailers that will be in the latter group.
Grocery: Aldi's has been expanding its presence in the U.S. for the last several years. This year, the German grocer will add approximately 180 new stores. Ultimately Aldi's plans to operate at least 2,500 stores in the U.S. within the next 5 years. 
Perhaps it's a sign of the times but the biggest expansion happening this year is with discount giant Dollar General. While not necessarily a grocery store, it combines both retail and grocery at discounted rates. They plan to open 900 new stores in 2018.
Sam's Club's rival Costco is also planning to expand this year. The big box warehouse discount store will add relatively fewer stores but the footprint is massive. Between last year and this year, Costco has opened 18 new warehouses and plans to open another 5 this year.
Retail: As traditional powerhouses like JCPenney and Sears close stores, other retailers are stepping in including TJ Maxx Companies (HomeGoods, Marshalls, and TJ Maxx Stores), Ross Stores, Target, and Gap brands. TJ Maxx will add the most stores, with plans to open more than 700 new HomeGoods stores and close to 700 new Marshall's and TJ Maxx Stores.
Ross will open 100 new stores this year and Target plans to open 35 new smaller stores, adding to the 32 it opened last year. Gap is one of those rare birds seeing closings (200 over the next two years) but reopening even more stores (270) under their new banner brands: Old Navy and Athleta.
Restaurant: Even in the restaurant space, we are seeing resurgent name brands expanding. In 2018, the Chipotle plans to open up at least 130 new stores. Starbucks, which some say has become a bit oversaturated in the market, is finding new ways to expand its footprint. Over 340 new Starbucks stores opened last year in places like Target and on campuses with plans set to add 416 more.