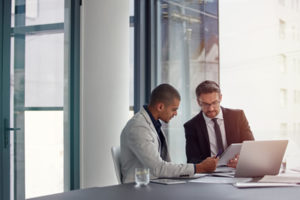 Chad Griffiths, a partner with NAI Commercial Real Estate in Edmonton, Canada, looks at the benefits of obtaining a CCIM or SIOR designation.  Many Agents and Brokers in NAI Dominion and our affiliate firms in NAI Global have one or both designations.  We would highly recommend working towards obtaining the designation right for you as it will only help you and your clients and customers.
"Commercial real estate transactions are some of the most important deals that a person or business can make. Finding the right commercial real estate can make or break a business venture. That is why people want the best professional commercial real estate broker available to guide them through the process.
But how can you separate the best professional real estate brokers from the rest?
Degrees And Designations
Most other important professions have a degree or designation that any practitioner is required to have by law. Lawyers have the J.D., doctors the M.D., engineers the P.Eng and so on. Yet there are no professional designations that are required to practice as a commercial real estate broker.
Fortunately, commercial real estate broker associations have created professional designations that allow you to identify those practitioners who have gone above and beyond to become masters of their craft. While anyone who has met the necessary licensing requirements for their jurisdiction can become a commercial real estate broker, these professional designations help the best stand out from the rest and give you the peace of mind that you have found someone that you can trust to guide you through these important decisions.
What's In A Degree Anyway?
A degree or professional designation signifies that the holder has the necessary education and experience to safely practice their profession. These designations are designed by professional associations to represent at least a bare minimum of knowledge and experience that every practitioner needs to do their job effectively and to a minimum standard of performance expected by their professional peers. Anyone who meets these standards can be relied upon to make the right decisions when practicing their craft.
Commercial real estate designations signify knowledge in relevant areas of law and finance, as well as the customs and ethics of the commercial real estate industry. These professional designations also signify a commitment to ongoing education and regular participation in the professional community and industry events."